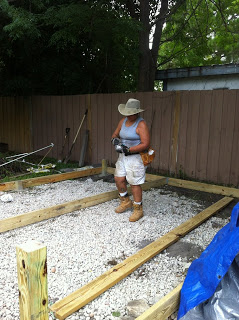 I've discovered that reinventing and rediscovering my characters in the novel I am writing is not only painstaking, but worthwhile as well. I feel as if I've rediscovered who my characters are, where they've been and where they are going. I want you the reader to give a damn about what happens to them and I want you to go through what they do. Easier said than done, but I am working on it.
I am making a commitment to myself and you that I will have my book completed by my birthday this year. I will likely go the e-publishing route so stay tuned. I'm excited to complete it and make it available for a general read. If anyone is interested in previewing it beforehand, let me know please, I'd love to know what others think.
Oh, and my birthday? November…the clock is ticking…..
This weekend was spent working at building a deck for a shed. I read and wrote as a way to let my body recoup from all that work…