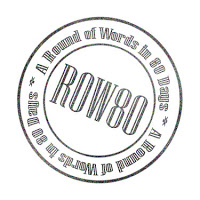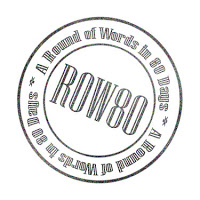 I know final check in was for Wednesday but life kind of through us all a heck of a curveball. Was driving to New York early that morning for my mother in law's funeral. It's been a heck of a blow to all of us and most especially to her husband of 59 years and her 8 children. She was the matriarch of a family that extended beyond the immediate. She accepted everyone, she was a wonderful woman and in my heart and mind always will be. During the drive we were informed that a grandchild due in April died in utero, so we've been mourning that as well.
In the midst of my love being at her bedside in the hospital in NY and those of us holding down the fort here in Florida, I completed my first book, thanks to my family and the support from ROW80. It is a forum that I recommend for any writer, struggling or not. We as writers need to be able to bounce things off of one another, we need to have other voices tell us things. We need the simple guidance and parameters that ROW80 offers. So, Kait Nolan, thank you, for starting this. Claudia Lefeve, thank you for turning me on to it. I will continue to participate and hope to again beginning in the New Year.
The holiday week will be spent continuing to support my family and finalizing my cover and edits so that I can upload my book by Christmas. It is my gift to myself. As for Christmas? The kids will have it on a reduced scale but us adults? We rescheduled for February.
So, the results of my time with ROW80 this time around are below…expected release date: 12-24-12
Amazon.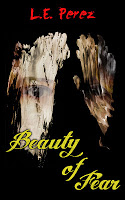 New Cover
New Synopsis-Beauty of Fear (Book 1-Fear Series)



The First One died to pique her interest,
The Second to touch her soul.
The Third One died to steal her peace,
The Fourth makes Fear, his goal.
Violence leaves a stain on your soul, and the fear that accompanies that violence can never be removed. It can be hidden, shadowed, and put away, but throw in just the right set of circumstances and it will blossom once again.
Leigh Ramirez has been through a lot in her short life: an abusive husband, raising two kids on her own, and two near death experiences on the job. All she wants now is to get back to a sense of normalcy, in her life and at work. She wants to move on from all that's happened to her. It was her decision to leave police work and put that life behind her, but when a young girl is found dead in a local park with something of Leigh's in her hand, Leigh is lured back into the world she left behind.
Someone wants Leigh to experience the beauty of fear. They want her to live it, feel it, and breathe it.
As young women continue to turn up dead, their resemblance to Leigh is lost on no one, least of all her. Each victim found takes a piece of her soul, steals more of her peace. It doesn't take long for Leigh to realize that this can have only one end. Even while her friends try to protect her, Leigh refuses to go into hiding and is ultimately forced to face her greatest fear, as it threatens both her children's lives and her own.
L. E. Perez